Överums Bruksmuseum (industrial museum)
Adresse: Bruksgatan 2, 590 96 Överum
Karte anzeigen
Adresse: Bruksgatan 2, 590 96 Överum

The museum is housed in an old well-preserved forge showing the industry's 350-year history and products.
The practice was founded by Walloons in 1655. It was the availability of ore, forests and waterfalls that made the industry end up right here. Production consisted initially of pig iron and iron bars, cannons and cannonballs. In 1776 they built a product forge and began making horseshoes, nails, axes, shovels, household items and the like. Around the turn of 1800 ceased cannon casting, and they turned increasingly to household items and ironwork.

In 1850 they started plow manufacturing, and after a few years the production of other agricultural tools. Furthermore, it has manufactured wood products, windows and doors, forestry and agricultural products, electric motors and parts for office machines. Today plows, seed drills and fertilizer spreaders are manufactured.

The number of employees in the 1970s was about 1,000 people. The industry was back then one of the county's largest industries. In 2010 the number of personnel averaged around 170. The practice celebrated its 350th anniversary in 2005. It could then look back on 350 years of uninterrupted activity with both crises and successes. It started with iron in a primitive earth timber hut, and today has a modern factory with trained personnel, which manufactures world-class products.
Show more
Über diese Aktivität
Telefonnummer

+46 493 307 81 eller 493 305 17

Adresse

City (address)

Email

Startseite

Stunden

Opening hours during the season June 26 to August 13: Weekdays: 11-16. Saturdays and Sundays: 14-16. Midsummer closed. Other times, call +46493-30517 or +46493-30607.

Preis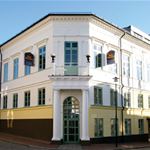 Hotels und Pensionen
Entfernung: 31,7 km
Das Best Western Västerviks Stadshotell ist in der nördlichen Provinz Kalmar der größte Anbieter in Sachen Unterkünfte, Essen & Trinken, Konferenzen & Unterhaltung. Das Hotel liegt mitten in Västervik, nur einen Katzensprung vom Meer entfernt, aber doch nah zu allen Aktivitäten.