Fruberget and Örnberget are two small mountains in the natur reserve of Segersgärde. After climbing to the top, both places offers ancient monuments and beautiful views of the archipelago.
A walk up to Fruberget or Örnberget gives a reward for the mood. The view of the archipelago landscape is magnificent.

Fruberget's slope to the west carries traces of an old farming landscape. This slope was formerly a mower bed, which used to use hay and leaves from the trees through so-called hamling. The orchids night violin, Adam and Eve, St. Persian keys and white forest lilies shine about how good the soil is.

Other species in the open fields are, for example, hemp, rosin and meadow spikes.
Show more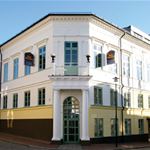 Hotels und Pensionen
Entfernung: 12,1 km
Das Best Western Västerviks Stadshotell ist in der nördlichen Provinz Kalmar der größte Anbieter in Sachen Unterkünfte, Essen & Trinken, Konferenzen & Unterhaltung. Das Hotel liegt mitten in Västervik, nur einen Katzensprung vom Meer entfernt, aber doch nah zu allen Aktivitäten.